When we struck the deer, we were on the last leg of our trip home from Minnesota, just south of
Esterhazy
. We came through the accident unscratched, and felt very protected, both by God and by the car's fine German engineering. It's easy to imagine things being so much worse if the impact was a split-second earlier or later. As it was, I (Steve) didn't even spill my coffee, the impact on the cabin occupants was so little.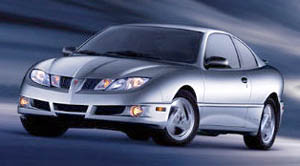 Our worry of how and when we'd get home was relieved when we discovered that (1) our Insurance provides some loss-of-use coverage for wildlife collisions, and (2) the body shop in Esterhazy (and I have nothing but good things to say about how they've treated us!) had a 2006
Pontiac Pursuit (now called a G5)
they could loan us. Not many rental car agencies in these small towns... So we got home just 4 or so hours later than expected.
We sometimes moan about the
BIG
distances with
little
population here in Saskatchewan. One wrinkle that results was that our insurance company's adjuster only travels to the Esterhazy area once a week, so it was a full 7 days after the accident before they got there to take a look.
They approved the repairs (estimated at $5200). Then the body shop estimated another week to get the parts in - not many VW parts in small-town SK, after all!
So we expect to have our beloved "Happy-Silver" VW Golf back by the end of next week! YAY! In the meantime, we're mobile, although every day the list of things I dislike about this cheap Pontiac loaner grows... It might be half the price of a Golf but that's because a Golf is at least twice the car!
(SP)